Back in June, I had the pleasure of experiencing 6 blissful days at Gaia Health Retreat. We all need a break every now and then, this was the perfect place for me to do so. It was truly an unforgettable experience that I had to share with you!
Gaia is a luxurious retreat and spa located in the hinterlands of Byron bay. One of the main points that drew me here was the fact that you can create your own retreat to suite you. All activities are optional – so you can choose to attend, or simply relax and enjoy the space.
What a typical day looked like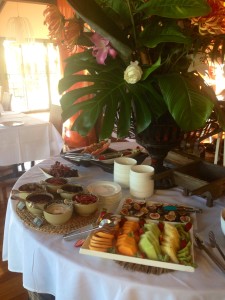 7:30am: 90 minute yoga class (optional)
9am: Breakfast
Fresh turmeric, ginger & lemon tonic
The choice of a fruit or vegetable freshly pressed juice
A delicious buffet of GF muesli, strewed & fresh fruits, superfood toppings, Gaia-style porridge (eg. sour cherry and rosewater), pumpkin bread, avocado, smoked salmon, or the daily special of a cooked breakfast.
10:30am – Chef's Garden Tour (optional) 1 hour
12:30pm: Lunch
Fresh turmeric, ginger & lemon tonic
Chilled lemongrass & hibiscus water
Sri Lankan chicken curry with brown rice and fresh greens from the garden
1:30 – 5:30pm: Pamper time (eg. Facial) OR free time
Afternoon snacks – GF muffins – baked fresh, activated nuts, dried fruit, selections of beautiful hand blended herbal teas are on offer all day.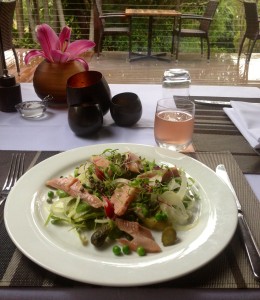 5:30pm: Activity 1 hour (eg. Meditation/Nutrition talk/Fitness class)
6:30pm: Dinner
Entrée: Salad – baby beets, rocket, goats cheese, tomato, candied walnuts & balsamic dressing
Main: Barramundi with roasted brussel sprouts, wild mushrooms & toasted pine nuts
Dessert: Green tea chia seed pudding  with  caramelised apples (AMAZING!)
The Food
The food was my one of my favorite experiences at Gaia. Every meal blew my mind and taste buds! The talented chef's created fresh, organic, tasty meals each day based on what was growing in the garden and in season. Fish, chicken and vegetarian meals are rotated, red meat is generally not served but can be requested. They have a beautiful selection of organic wines on offer if you choose to 'wine and dine' 😉 Every meal was beautifully presented and I never once went to bed hungry.
The Day Spa
The day spa was a slice of heaven. From the moment you walk into the spa you are greeted by a warm welcome, comfy slippers, herbal tea and the most divine aroma from the burning oils. The therapists were all exceptional, which truly took the experience to another level. I'm not even going to begin listing the treatments offered, there are far too many divine treatments. If you are interested click here for more information.
 Activities
There were a great range of activities on offer. A few examples include nutrition talks, Qi-gong, mediation, fitness classes, and cooking classes. All activities are optional so you can choose to relax on the beautiful day beds or take advantage of the activities. Each night at dinner they present you with a card of your individual schedule for the following day – there is absolutely no need for you to think about anything at Gaia.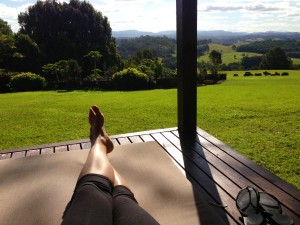 The Staff
All the staff were incredibly friendly and attentive. It was hard enough leaving Gaia, let alone saying goodbye to these lovely souls – they will go above and beyond for you. I would highly recommend Gaia Retreat if your looking for a luxurious, healthy getaway!
What Lessons Did I take Away with me?
I need time out – regularly
The world won't fall apart if I stop working
Nature is healing. It inspires my mind and restores my body
My body and mind benefits from daily yoga
Breathing exercises are simple tools to help quieten my mind and encourage relaxation
Slow down and be present = inspiration, happiness, enjoyment
My home space is my sanctuary – it is a place where I can switch off and relax anytime
Website: www.gaiaretreat.com.au