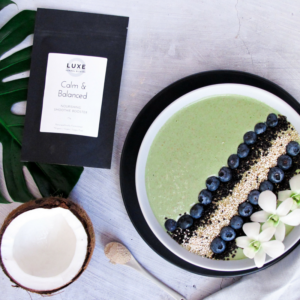 I am excited to finally share this beautiful product range I have created, just for you! LUXE Herbal Elixirs are the perfect addition to a fresh, whole foods diet – and are easily be incorporated into your daily routine.
These botanical blends are in a powdered form, and have each been specifically created to support your health and wellbeing, whether it be stress support, immune boosting or weight management. These elixirs gently nourishing the body from the inside-out!
All blends are vegan friendly, Australian Certified Organic* and sugar free.
How Do I Use Them?
Add to your daily smoothies or juice
Add to bliss ball or any raw food treats
Make a medicinal caffeine-free latte – I'll be sharing my favourite medicinal latte recipes soon!
Medicinal Chocolate Fudge – check out my blog for this delicious recipe
Where Can I Buy Them?
Head over to the 'Shop' tab to purchase online. Postage is available at check out, or free local pick-up from my office in Gymea. The Yoga Hive in Wollongong also stocks the full range if you are in the Illawarra Region.
If you have any questions, please contact Suzie via email:
info@suzieweber.com
Suzie x